Non-Surgical-Liposuction
Ultra Lipo| Ultrasonic cavitation or Non Surgical Liposuction with Vacuum RF facial and Body care System is one of the most professional and powerful weight loss procedure in India combining 6 advanced technologies in one single system.
It provides complete and advanced facial and body care (weigth loss )treatment such as fat reduction, body shaping, cellulite reduction,weight loss with skin tightening, wrinkle reduction, facial rejuvenation etc. It adopts 5th generation avitation technology which provide comfortable and effective treatment with low noise.
The advanced mutli-polar RF with Vacuum Body applicator is greatly effective for lymphatic drainage, skin tightening and lifting. Ultra Lipo system or Non surgical Liposuction is specially designed to provide accurate and effective treatment for all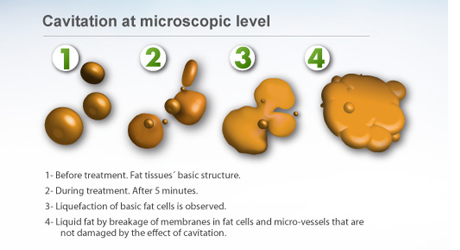 Triglycerides and cell debris from disrupted fat cells are liberated into tissue spaces and are drained to the liver via naturally lymphatic channels and circulation. The liver metabolizes them for energy production.
Some of the dissolved fat is then naturally excreted. At the same time, the skin becomes suppler and tighter, giving skin a younger and more toned appearance. Depending on the size of the area treated; the average number of treatment range from 6 to 10 sessions is recommended for overall enhanced results.
Results vary based on your body type and the severity of the condition. On the average, based on conditions, the results can be seen in two or three sessions. For certain conditions you may see results immediately.